What to Look For Before Returning Your Lease
So, the time has come to say goodbye. You've been leasing your Hyundai for a few years now, and it's time to turn it in–most likely, of course, for another great new Hyundai.
Before you part with your trusty vehicle, though, there's a few things to check up on to make sure you aren't hit with unexpected charges on your final dealership bill. Here's what you should do when preparing to bring your vehicle back to your Jackson area Hyundai dealer.
Do a Walk-Around of the Exterior
You'll want to make sure the exterior is in good shape before you bring the car back. That means no major dents, scratches, dings, holes, or paint chips in the body. About four months before your lease return date, Hyundai will send you a preparation package that includes a handy measurement tool for checking the size of various small damages. It looks like this: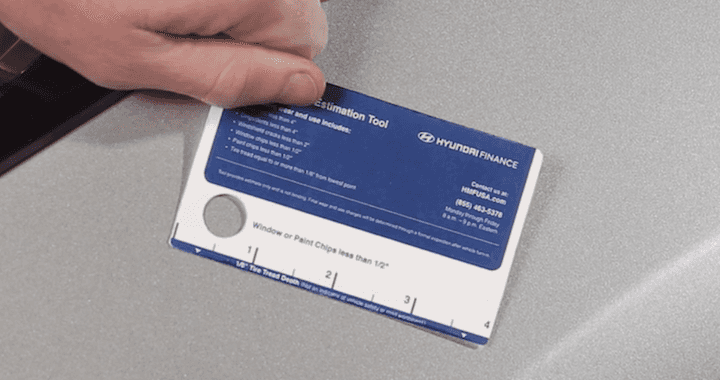 That can help you determine the seriousness of little scars your car may've earned along the way. Here's what to check for:
Dents, dings, or scratches longer than 4"
Chips in paint bigger than ½"
Punctures in the body
Check the Tires and Wheels
It's also important to make sure the tires are not too worn, and if you had them replaced, that they are the correct fit for your vehicle. The same included measurement tool can help you check for tread depth, and tire information can be found in the Hyundai owner's manual. Make sure that:
Tire tread depth is still ⅛" or more
Rubber is in good shape
The tires are the correct size and speed rating listed in vehicle manual
Wheels are not scratched or warped
Included spare tire is in the vehicle
Make Sure the Glass is Safe
Windshield and window damage could also result in dealer charges. Severity can again be checked with the included measurement card. Possible problems include:
Chips, "spiders," or "bullseyes" larger than ½"
Cracks 2" or longer
Peeling, bubbling, or scratching
Look for Excessive Interior Wear
Spills and rips happen, so go through the car's upholstery to make sure all of the original mats are included and that there aren't signs of excessive wear. If there are, consider having them professionally removed or mended before returning the vehicle. These examples include:
Turning in Your Hyundai Lease
If you're unsure of the condition of your vehicle after going through this self-inspection, you can contact Hyundai finance at 855-463-5378 to receive a complimentary pre-termination inspection within 60 days of your return date. You'll also obviously want to make sure the car is mechanically functioning the way it's supposed to, so contact our service department to resolve any weird rumbles or glitches you may notice as covered by your warranty.
Once the vehicle is returned, we'll conduct a final inspection and issue a final bill based on any fees, outstanding payments, excess mileage charges, or cosmetic issues. But if you're leasing another great Hyundai vehicle from us here at Wilson, Hyundai Finance will cover your turn in fee up to $400 and excess wear charges up to $500, for a total of $900 in savings toward your next lease!
Oh, and bring back all the keys and key fobs. The next person to drive your now pre-owned Hyundai will appreciate that.